Timmermans 4 Pack
One of Each
TIMMERMANS FRAMBOISE LAMBICUS
Timmermans Framboise is made by adding 100% natural raspberry aromas to lambic. After maturation in oak barrels, the beer turns a delicate shade of pink that is sure to delight you. Timmermans Framboise is a beer to be savoured with finesse and elegance.



TIMMERMANS KRIEK LAMBICUS
From the cherry tree's transient flowers, its fruits ripen – round, red and packed with sunshine. Timmermans Kriek blends its famed lambic with this sweetness for a beer that can quench any thirst. Its natural freshness will make you blush for joy.

TIMMERMANS PÊCHE LAMBICUS
Timmermans Pêche is made by adding 100% natural peach aromas to lambic fermenting in oak barrels. This beer's characteristic aroma is very pleasant on the nose, and it has a velvety flavour and a creamy foam. Timmermans Pêche is a fruity drink, very easy on the palate, to be drunk with a smile on one's lips.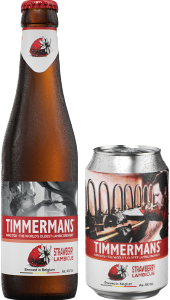 TIMMERMANS STRAWBERRY LAMBICUS
For anyone who finds strawberries irresistible, Timmermans Strawberry evokes the fragrance of long sunny days. Its strawberry flavour will have you wrinkling your nose in delight with each sip. Its luminous colour and its fruity freshness are a treat for taste-buds and eyes alike. A totally mouth-watering experience.
TIMMERMANS SLOE LAMBICUS
From its entrance in the glass, we already reveal the maturity of its basic fruit. Its dark ruby color announces many tasty satisfactions reminding that its base is the blackthorn, the fruit which exposes in maturity.